Welcome to Anglican Cursillo New Zealand
Haere mai ki Te Kāhui ki Aotearoa.
It was gifted to the Anglican Diocese of Wellington in 1988 by the Diocese of Brisbane, Australia.
Cursillo in New Zealand is part of a world-wide Movement of the wider Christian Church which aims to "Change the Environments" through Christians who are committed to living and spreading the Gospel.
Today, this local Discipleship Movement within the Anglican Church offers a method by which our relationship with Jesus may be developed, lived out with the support and encouragement of others, and used by God to change the world about us.
The heart of Cursillo is a 3-day live-in event that presents a specific method for deepening and living out our Christian faith. Cursillo also provides a strong follow-up and support network of both small groups and wider gatherings for mutual encouragement.
"We are blessed in order that we may be a blessing for others." (Gen 12:2)
Devotion for May
From Rev'd Jill Woods, National Spiritual Adviser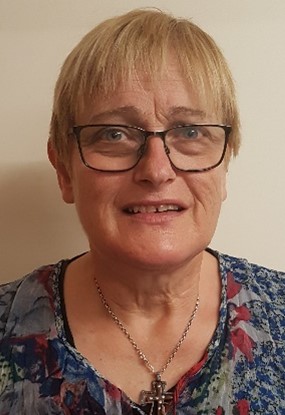 Brothers and sisters in Christ – Greetings to you all in this beautiful season of Autumn. I have a scarlet oak tree outside my kitchen window – it is a joy to celebrate the vibrancy and colour of Autumn leaves gently falling. Appreciating such beauty prompts me again to give thanks to God for the beauty, colour and seasons of life. Autumn is the season of ripening, of harvest and abundance – the season to be mindful of the Risen Christ – our Saviour and shepherd.
"WE THANK Thee, then, O Father, for all things bright and good, / The seed time and the harvest, our life, our health, and food; / No gifts have we to offer, for all Thy love imparts, / But that which Thou desirest, our humble, thankful hearts." Matthias Claudius, "We Plough the Fields and Scatter"
God's creation is in need of care and protection – including those peoples suffering from injustice and war. How fortunate are we to live in peace. My encouragement to us all is to appreciate the quiet time of this season – to be still and know our God.
John 21:1-19 reminds us that we are loved, forgiven, and then equipped to co-shepherd with Jesus. Jesus says, "Follow me!" May we enjoy the beauty of the Easter season – and discern where our God may be calling us to go. De Colores!
Resurrection
From Gail Spence, National Lay Director



We have just celebrated Easter commemorating the death and resurrection of Jesus Christ. God raised Jesus on the third day after his crucifixion, ushering in the Kingdom of God. Jesus appeared to his disciples, calling the apostles to the Great Commission of proclaiming the Gospel of eternal salvation through his death and resurrection.
That message remains with us – as Christians, it is ours to proclaim.
The past two years have seen our lives bounded by nationally-imposed protective protocols to reduce the impacts of the Covid-19 pandemic. Groups could not meet in sufficient numbers. Social distancing became the norm. Masks changed our faces and distorted our voices. These restrictions disrupted regular church worship, including Cursillo events.
In secular terms "resurrection" means "the revitalisation or revival of something". With protective measures in place, Covid-19 restrictions are easing – time for a Cursillo revival. It is encouraging see Dioceses responding to this new imperative. They require energetic leadership, strong commitment and an abundance of support to keep Cursillo alive.
Let us pray for many to respond to the call to take an active part in the discipling movement that is Cursillo. Through Cursillo, with their service, compassion and guidance, more and more people will come to know, feel and witness God's love in their everyday lives. What a way to spread the word and witness the abundance of God's love in our lives!
History of the Cursillo Movement in New Zealand
In the Beginning… Anglican Cursillo in New Zealand – a history, written by Bishop Brian Carrell at the request of the Wellington Diocese Cursillo Secretariat to mark the 20th Birthday of Cursillo in New Zealand, September 2008.
Short History of Cursillo – a short history of the Cursillo Movement, tracing its growth and development, including its arrival and spread in the Anglican Church in New Zealand.
The History of Cursillo – a fuller history of the Cursillo Movement, from a New Zealand perspective.
Useful documents
"Rainbow" Flier – What is Cursillo?
What is Cursillo? – an extremely brief outline of the aim and method of the Cursillo Movement.
A guide to the practice of Christian Spiritual Direction – written for the information of Cursillistas in the Anglican Church, New Zealand.
Cursillo Song Book – Cursillo NZ Song Book (in pdf format for use on mobile phones). This document is copyright and may only be used for Cursillo-related purposes.
NOTE: The internal hyperlinks may not work with the default pdf viewer installed on some Android phones. We recommend you use the Adobe Acrobat Reader App.
Links to explore
www.episcopalcursilloministry.org
Seeking an Editor. Is this you?
REMAINS OPEN – Application welcome
The New Zealand Cursillo Council (NZACC) seeks expressions of interest from Cursillistas for the position of Editor of Kiwi Cursillo – Kāhui ki Aotearoa. NZACC wishes to ensure that this magazine continues as the focal point for sharing the good news about Cursillo within the broadening New Zealand Cursillo family and Cursillo in other countries.
If you have administrative giftings, an ability to use a computer, and a passion for Cursillo, you are qualified for this position. As Editor, you will appoint a Registrar to work alongside you to manage aspects of Kiwi Cursillo – Kāhui ki Aotearoa. The initial appointment will be a three-year term, its extension negotiable.
E koekoe te kōkō, e ketekete te kākā, e kūkū te kererū
The parson bird chatters, the parrot gabbles, the wood pigeon coos.
Humans, like birds, have their own unique characteristics. Do you have the giftings for this position? …the accompanying sense of adventure? …the call to serve Christ in this way?
To get additional information.on the position contact Gail Spence, National Lay Director (gail.spence@xtra.co.nz) or download the job description and application form. We would love to hear from you!
For more information
about New Zealand Anglican Cursillo contact natsec@cursillo.org.nz